Cumberland Foot and Ankle Center now offers a great new service to our patients, in office MRI (Magnetic Resonance Imaging). Cumberland Open MRI provides a comfortable, stress free MRI experience.  The open architecture of our magnet reduces concern in patients who experience claustrophobia and anxiety. This in turn provides the patient with a more positive experience with detailed scans. The machine is designed to have only the anatomy of interest under the magnet; specifically the foot, ankle, shoulder, elbow, wrist, hand or knee. By having an Open MRI system on site in our Somerset clinic, we provide more flexibility in the times available to schedule your test, usually on the same day or within a few days of your appointment. We provide this service because we understand your time is valuable and want you to spend the least amount of time possible in the doctor's office.
About Our MRI
With the addition of the nationally accredited MRI unit to Cumberland Foot and Ankle Center, we are able to accommodate patients practically the same day as your scheduled doctor's appointment. The in-office 0.3 Tesla magnet is not only convenient, but it is a safe, reliable, and totally painless way for our physicians to look at your foot and ankle. We can generate a reading within 24-48 hours, and in emergency cases, within only a few short hours of the time of the scan. The ease and comfort of our machine is unmatched with any MRI's in our area.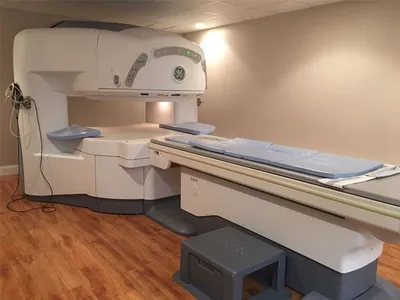 A MRI allows the physician to look at the soft tissue of your body and it provides information to improve their diagnosis. MR images look a lot like a conventional X-ray, however, they provide much more detailed information, without the use of radiation, as in X-rays and CT scans. The exam uses radio waves and a magnetic field to create images of the specified body part.
Once the images are obtained, they are transmitted to ProScan Reading Services. Founded by Stephen J. Pomeranz, M.D., ProScan is comprised of a dedicated team of highly specialized, board-certified and trained radiologists. The ProScan Imaging radiology team has one of the most extensive case experiences in the world, and its members are recognized experts in MR, CT, PET, and US.
"To be competitive, you need to add value for the customer. We approach our customers as partners, and we teach them all we can about imaging. This sharing of of knowledge both enhances their practices and establishes our position as their most valuable radiology resource." - Stephen Pomeranz, M.D.
We look forward to providing you, our patients, our customers, our friends, with the utmost care, and the latest services to give you the best quality results and medical outcome. Call today for an appointment.
Click here for further information and frequently asked questions about our MRI services .