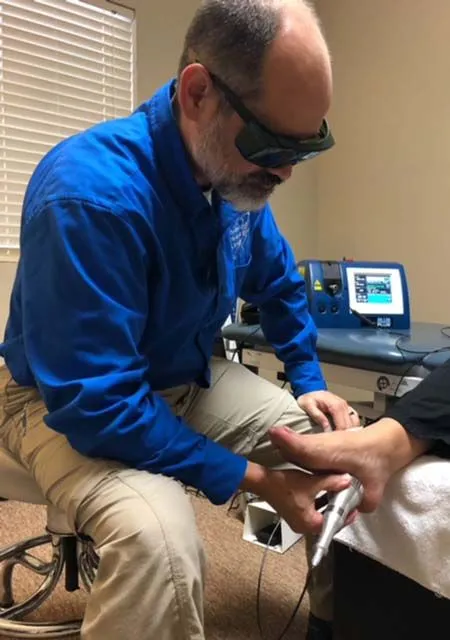 What is Laser Therapy?
Laser therapy for Orthopedic pain is a painless and non-invasive process that uses concentrated light to draw blood flow to your heels, tendons, and nerves, depending on which area is giving you pain. The light beam penetrates into the soft tissues, bringing new oxygen and nutrients that trigger your body's natural healing processes. It also reduces inflammation and pain. Usually, the treatment sessions last around 10-15 minutes and to achieve the best results, multiple treatments will be required. Depending on the severity of the pain or injury, multiple treatments over a few weeks or months provide the optimal results.
Is Laser Therapy Experimental?
By no means is Laser treatment "experimental". Laser therapy has proven itself successfully in Europe for over 30 years and still relatively new in the United States. The HyperBlue Plus Laser utilized by the doctors of Cumberland Foot and Ankle Centers of Kentucky and Cumberland Bone and Joint Orthopedics is one of the most powerful (30 Watt) FDA cleaered devices on the market. The HyperBlue Plus Laser is PAIN FREE and SAFE.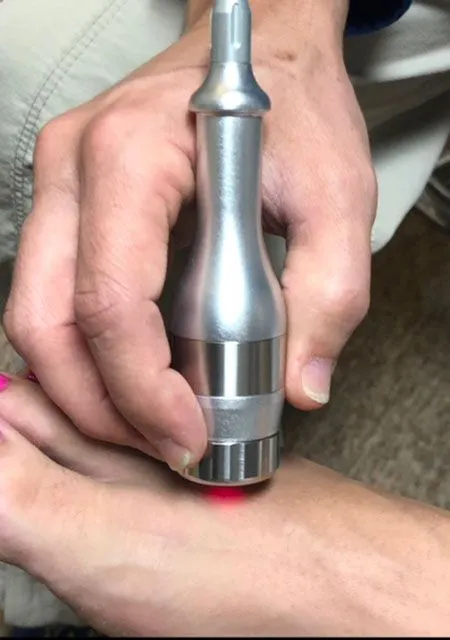 How many treatments will I need?
For most chronic orthopedic conditions, a series of 6-10 treatments are recommended. According to studies in Europe and in the US, approximately 10 visits are optimal. We schedule the sessions with about 3-5 days in between as the effects of the laser are cumulative and build up with each treatment. Patients typically feel better with each successive treatment.
Once the 6-10 visits are finished, you may choose to have treatments weekly or monthly depending on how good you feel or in some cases to help maintain your health. We can create a treatment package that best fits your needs.
What can laser therapy treat?
tendon and ligament injuries
chronic non-healing wounds
soft tissue injuries
muscle strains and tears
joint and muscle pain
arthritis and degenerative joint conditions
neurological pain
general pain
musculoskeletal disorders
pre and post-surgical treatment
anti-inflammation/edema
Whatever the condition—plantar fasciitis, tendonitis, neuropathy, Morton's neuroma, or tendonitis—we treat you with care, honesty, and respect.
*What does treatment cost?*
10 treatments: $350.00 ($35.00 per treatment)
8 treatments: $300.00   ($37.50 per treatment)
6 treatments: $240.00   ($40.00 per treatment)
4 treatments  $175.00   ($44.00 per treatment)
2 treatments   $95.00   ($47.50 per treatment)
After an initial evaluation and review of all of the treatment options (covered office visit), the right Laser Plan will be discussed.
Payment of your laser session package will be expected at the completion of the first visit. Or if you choose, you can pay per session.
Even though health insurances do not pay for the laser treatments, your insurance will cover follow up examinations in the office. Our staff will check your health benefits for you. Your health savings account of flexible spending can also be used to pay for your treatments.
What can I expect after the treatment?
70% of the patients experience positive results after 1-3 treatments. Swelling from an acute inflammatory condition is greatly reduced and there can be an immediate relief of pain. Chronic conditions can be treated with regular treatments that reduce the overall pain and return the affected area to better function. Acute conditions, like sprains and hematomas can subside quickly, in a few treatments.